There are so many choices these days when it comes to "imitation" or dare I say it replacements for "regular" or "non-kosher" foods. Fake meat, fake milk, fake sugar, fake cheese, fake…… everything! Ok, keeping kosher does require some creative fancy dancing when converting meat recipes to pareve, dairy recipes to pareve and utilizing ingredients that aren't quite as tasty as the real thing. There is 1 item, however, that I really enjoy using/eating in stuff like sushi and corn soup and that's fake/mock crab.
Not always having kept kosher I do know what the "real" stuff tastes like and the brands of mock stuff are not only wayyyyyyyy less expensive than the real stuff, when cooked and used in combination with bold flavored ingredients it's actually pretty delicious. Full disclosure: Imitation crab is a processed food that is a mixture of minced fish, starch, egg whites, sugar, salt and spices and coloring to help mimic the flavor and texture of the real stuff.
It is important that you make sure that you are purchasing a brand that is kosher certified as the main stream fake stuff actually contains some actual crab in it (same with the fake lobster stuff). The following recipes are all really easy to create and a great way to put something new and delicious in front of family and friends that is just about as tasty as the real stuff.
HOT AND SAVORY "MOCK" CRAB CAKES
1 red bell pepper, chopped fine
1 celery rib, chopped fine
1/3 cup plus 1/2 cup dry bread crumbs, divided
3 green onions, sliced thin
1 egg
3 to 4 tablespoons mayonnaise
1/4 teaspoon prepared wasabi
1 teaspoon cracked black pepper
2 teaspoons chopped parsley (dried or 1 tablespoon fresh)
1 lb. mock/fake crabmeat, broken into small pieces
1 tablespoon toasted sesame seeds (white or black)
Nonstick cooking spray
Sesame oil
SAUCE:
2 stalks celery rib minced
1 carrot chopped fine
2/3 cup mayonnaise
1 green onion, finely chopped
1 tablespoon sweet pickle relish
1/4 teaspoon dried mustard
1/4 teaspoon prepared wasabi (optional)
Preheat oven to 425. Grease a cookie sheet with sides with cooking spray and a few drops of sesame oil. In a bowl combine the red pepper, celery, 1/3 cup bread crumbs, green onions, egg whites, mayonnaise and wasabi. Mix to combine and then add the mock crab. Gently combine.
On a plate combine remaining bread crumb and sesame seeds.  Drop a heaping tablespoonful of the crab mixture onto the bread crumb mixture. Roll and coat the ball and shape it into a patty about 3/4 to 1 inch thick. Place the patty on the prepared baking sheet. Repeat with remaining mixture.
Spray the top of the mock crab cakes with the nonstick spray. Bake 10 minutes and flip the patties. Cook additional 5 to 10 minutes until golden brown and sizzling minutes. Makes 18 to 24 cakes (depending on the size and approx.
To make the sauce combine all the ingredients in a bowl and mix to combine, makes 1 cup sauce.
Cakes can be made 1 day ahead of time and baked just before serving or cooked ahead of time and reheated.
BOW TIE PASTA WITH PEPPERS, TOMATO AND "MOCK" CRAB
1 lb. mock crabmeat, cut into small pieces
4 Roma tomatoes, diced and drained
1 red peppers, diced
1 yellow pepper, diced
6 green onions, sliced thin
1 lemon, zested and juiced
1 teaspoon ground black pepper
1/2 cup plus chopped fresh parsley, save 1 tablespoon for garnish
2 teaspoons dried basil
1/4 cup olive oil, plus more to taste
1 teaspoon kosher salt for cooking the pasta
1 lb bow tie pasta
1/3 to 1/2 cup toasted pine nuts
In a large bowl combine the mock crabmeat, diced tomatoes, lemon zest, lemon juice, pepper, 1/2 cup parsley, 1/4 cup oil, and salt. Mix gently to combine and set aside
In a large sauce pan cook the spaghetti in salted water, stirring occasionally, just until done but not mushy. Remove 1 cup of the water the pasta was cooked in and add it to the mock crab mixture and mix to coat. Drain the pasta and add it to the mock carb mixture. Mix to combine. Season with season with salt as needed. To serve place in a serving bowl and top with remaining parsley and pine nuts. Serves 6 to 8. Can be served hot or cold.
"MOCK" CRAB RANGOON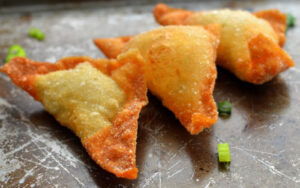 10 to 12 oz. mock crab
2 8 oz. packages of cream cheese, room temp
2 stalks celery, chopped fine
3 green onions, slice very thin
2 teaspoon dried tarragon
1 can water chestnuts, drained and chopped fine
Salt and pepper
24 wonton skins (square)
1 egg, slightly beaten, for sealing
Vegetable oil for frying
In a medium bowl of an electric mixer beat the cream cheese for 1 minute. Add the crab, green onion, water chestnuts tarragon, salt and pepper and mix to combine.
Take a wonton skin, spoon 1 teaspoon of filling in the center of each wrapper. Using a pastry brush moisten the edges of the wrapper and fold it into a triangle, pushing on the edges to seal. With a finger dipped in egg, moisten the 2 adjacent sides; fold over the opposing corner to make a triangle. At this point you can fry them and serve them or you can cover them with plastic wrap and freeze them for up to a month.
Pour enough oil in a skillet to cover the bottom. Heat and fry the triangles a few at a time until golden (2 to 3 minutes on each side). Drain on a paper towels on top of wire rack over a cookie sheet. Makes 24. You can serve these with sweet and sour sauce.
© Eileen Goltz mock 20