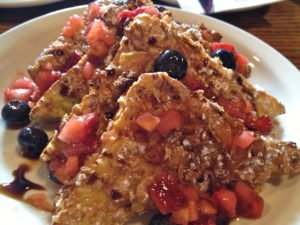 French toast is usually thought of as a breakfast or brunch dish, but the kid in me kinda sorta likes it at all times of the day and all year long, if you know what I mean. Why this version of soaked bread is called French is actually kind of humors as the origin is English as in the British Isles (thank you 15th century English King Henry V whose courtiers thought French was a more sophisticated language). The custom of soaking stale bread in an egg mixture was called "pain perdu" which translated into "lost bread". Over the years as the custom trickled down to the rest of the society who didn't speak French it became French bread.
No matter where the tradition started these recipes are perfect day or night, breakfast of dinner and especially New Year's Day. I promise you, when you taste them you will all smack your lips and sat "tres bon!" (That's good!)
BERRY FRENCH TOAST BAKE
A throw together night before or first thing in the morning fabulous dish
 1 loaf challah cut into 1 ½ inch cubes
1 1/2 cups blueberries, divided
1 1/2 cup raspberries, divided
1/2 cup sugar
6 eggs
1 1/2 cup milk
1 1/2 cup cream or half and half
1 1/2 teaspoons cinnamon
1 teaspoon vanilla
2 tablespoon of sugar combine with ½ teaspoon cinnamon
Powdered sugar (optional)
Maple syrup (optional)
Grease a 9×13 pan. Add the bread cubes and 2 cups of the berries, toss together, and set aside.
Place the remaining berries in a bowl and mash them together. Add the sugar and eggs and whisk to combine. Add the milk, vanilla and cinnamon. Whisk to combine. Pour the egg mixture over the bread cubes. Stir gently to combine. Sprinkle the combined sugar and cinnamon on the top.  Cover with plastic wrap and refrigerate at least 4 hours or up to 24 hours.
Preheat the oven to 350. Remove the plastic wrap and cover the pan with foil Bake for 30 minutes, then uncover and bake for an additional 30 minutes. Cool slightly, then dust with powdered sugar and serve with maple syrup.
LUSCIOUSLY DRUNK ORANGE CROSSANT
6 to 7 eggs
Zest of one large orange
1 tablespoon orange liquor
2 teaspoons vanilla extract
1/3 cup honey
3/4 cup whipping cream
3/4 cup orange juice
6 to 8 large croissants, cut in half horizontally
2 to 3 tablespoons butter
1/2 cup sliced almonds, toasted
1 1/2 cup sliced strawberries
Maple syrup (optional)
In a bowl combine the eggs, orange zest, orange liquor, vanilla, honey, whipping cream and orange juice. Whisk to combine. Line a cookie sheet with plastic wrap. Dip each half of a croissant into the egg mixture and place it on the cookie sheet (you can do this up to 2 hours before you cook them, just cover and place in the fridge).
To cook, using the butter grease a a preheated griddle or frying pan. Using a spatula gently transfer each half of the croissant to the griddle. Cook on each side for 3 to 4 minutes until crispy golden brown. Serve immediately with almonds, strawberries and maple syrup. Serves 6 to 8
CHOCO-HAZELNUT FRENCH TOAST SANDWICH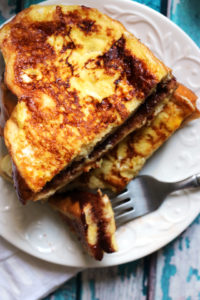 2 eggs
1/2 teaspoon vanilla
1 teaspoon sugar
1/4 teaspoon cocoa powder
Pinch of salt
1/3 cup milk
4 slices challah or brioche
4 heaping tablespoons chocolate hazelnut spread
Choco-Cinnamon Sugar
1/3 cup sugar
2 teaspoons cinnamon
Pinch of cocoa
Mix the sugar, cinnamon and cocoa together and set aside
Butter for frying
In a bowl combine the eggs, vanilla, cocoa, sugar and salt. Whisk in the milk until combined.
Spread the hazelnut spread over two of the slices of bread (make it thick). Place the other 2 pieces of bread on top. (Making 2 sandwiches).
Dip the sandwiches in the milk egg mixture. Let sit for 1 minute then flip so both sides are soaked. Do this twice for each sandwich (a total of 4 minutes). Place them on a plate covered with plastic wrap. Let the sit for 10 minutes prior to cooking. (You can also make this in the morning or evening before and then cook when ready).
Preheat a skillet. Grease with butter and then gently place the sandwiches on the skillet. Cook for 3 to 4 minutes on each side (it will get crispy but be gentle when you flip it)
To serve place the sandwich on a plate, sprinkle some of the cinnamon mixture over the top, cut in half and serve.  Makes 2. This recipe can be doubled or tripled.