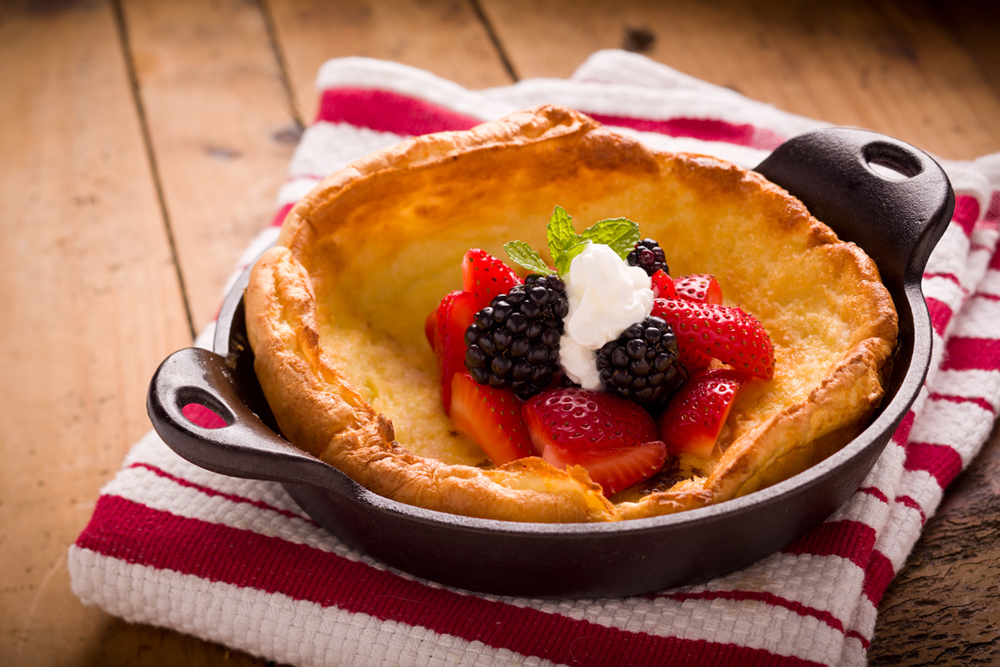 So Mother's Day got here just after we finished the food fest of Pesach and while we've all had the opportunity to gorge ourselves on chometz we're probably still shopping for those pantry items we threw away in our haste to be chametz. I felt decadent today, and decided that I wanted breakfast for dinner (my day, my menu) and came up with the idea that I just had to have Dutch pancakes.
A Dutch pancake, sometimes called a German pancake is typically a ginormous puffed popover supposedly created after the German Pfannkuchen. It is made with eggs, flour, sugar and milk, vanilla and cinnamon, and sometimes fruit or another delicious ingredients like cocoa, chocolate or coffee flavoring. Baked in a cast iron or heavy metal pan and falls (like a soufflé) after being removed from the oven. These babies are perfect anytime of the day or year and quite frankly, after my day of cards and calls and working in my garden I'm looking forward to my dinner tonight because not only will I not have to make it, I'm not going to have to clean up afterwards.
MINI DUTCH BABY with LEMON BLUEBERRY SAUCE
Non stick spray
1/2 cup flour
1/2 cup milk
3 eggs
2 tablespoons sugar
2 teaspoons vanilla
1/4 teaspoon salt
1 teaspoon cornstarch
1 cup blueberries
2 1/2 tablespoons sugar
3 tablespoons water
1 tablespoon fresh lemon juice
1/2 teaspoons lemon zest
Powdered sugar to dust
Preheat oven to 400. Spray a12-cup muffin pan with no stick cooking spray and set it aside.
Blueberry Sauce. In a saucepan combine the sugar and cornstarch. Mix to combine and add the blueberries, water and lemon juice and zest. Mix to combine and bring to boil on medium heat, stirring constantly. Boil for 1 minute and then set it aside until ready to serve. This can be made up to a day ahead
In a blender or food processor combine the flour, milk, eggs, sugar, vanilla and salt. Process until smooth. Divide evenly into prepared muffin pan. Bake 13 to 16 minutes or until edges of pancakes are golden brown. Cool on wire rack 2 minutes. When ready to serve
Spoon sauce into center of each pancake. Sprinkle with powdered sugar, if desired. Serve immediately. Serve 4
TREBLE BERRY BABY
1/3 cup sugar
1 1/2 teaspoon cinnamon
3 eggs
2/3 tablespoons milk
2/3 cup flour
1/8 teaspoon salt
4 tablespoons butter
1/2 tablespoon sugar
1/2 cup raspberries
1/2 cup blueberries
1 cup strawberries, sliced
Preheat the oven to 425. In a small bowl, combine sugar with 1 teaspoon of the cinnamon. Set aside.
In a bowl combine the berries and remaining 1/2 tablespoon sugar and cinnamon.
Stir and set aside.
In a blender or food processor beat the eggs 3-5 minutes, until pale and frothy. Add the milk, flour, salt, and remaining 1/2 teaspoon of cinnamon. Process just until combined. This is a very thin batter.
Melt the butter in a 10-inch oven-safe skillet. Melt the butter in the skillet. Pour the batter into the hot pan and then place it in the oven and bake for 20 minutes, until golden and puffy.  Remove the pancake from the oven, sprinkle with the prepared cinnamon sugar mixture and then serve (in slices) with the mixed berries on top. Serves 4.
CINNAMON APPLE DUTCH PANCAKE
4 tablespoons butter
3 medium granny smith apples, sliced thinly
2 tablespoons ground pecans or walnuts
3/4 cup flour
3/4 cup milk
1/2 teaspoon salt
1/4 teaspoon baking powder
1 tablespoons sugar
4 eggs
Cinnamon Topping:
1/2 cups sugar
2 teaspoons cinnamon
Preheat oven to 400.
Melt the butter (over a burner) into a 12″ cast iron frying pan and place the apple slices in a concentric circles and sprinkle the chopped nuts over the apples.Set it aside. In a bowl combine the flour, baking powder, sugar, salt, milk and eggs. Whisk to combine. Gently pour the batter over apples.
In a bowl combine the remaining sugar and cinnamon and then sprinkle it over the top of the egg mixture. Bake for 20-25 minutes until golden brown. Serves 4.