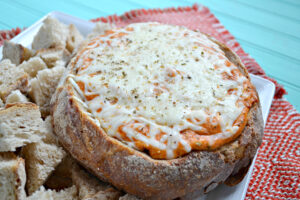 O K, sports fans, it's the end of the first quarter, the bases are loaded, one more goal and it's a hat trick. The quarterback takes the snap. He runs down the court, the clock is ticking………he shoots, he scores, and — Hey, ref, he was fouled! In my dyslexic view of sports, this is how I see the upcoming Super Bowl being played. Yes I know there are a few more games to play before the final combatants are decided but the only game I watch (or pretend to) is the Superbowl. Basketball, now that's another story……
In keeping with the sports metaphors, it's pretty much the same anticipation of great snack in my house when we set-up for the big day/game/annual I don't care who wins, root for the clock to get to 00:00. This year, sadly the only the number of players (me and hubby) and  the game plan (amount of recipes made) will not change. Appetizers until half time, then sandwiches and victory desserts after the game. My son, who is sheltering in place with us for now probably  doesn't even know what a football is and will emerge from behind his computer only when the food hits the table but never to watch "the game", the commercials (my favorite part) or the halftime extravaganza.
These dip recipes gives everyone the ability to be "on the field" eating throughout the entire game and yet not feel as if they were going to be benched for a gross foul — like double-dipping their chips.
HOT PIZZA DIP
8 ozs. cream cheese, softened
1 teaspoon Italian seasoning
1/4 teaspoon garlic powder
1 1/4 cup (6 ozs.) shredded mozzarella cheese
3/4 cup (3 ozs.) shredded parmesan cheese
1 8-oz. can pizza sauce
1/2 cup chopped green bell pepper
4 thin sliced green onions
Dash of red pepper flakes optional
1 large round loaf of sour dough or Italian bread or any crusty bread
Bread sticks, chips and or crackers
Hollow out the loaf of bread so that there is a deep bowl in the middle. Heat oven to 350 degrees. In a bowl, combine cream cheese, garlic powder and Italian seasoning and mix to combine. Spread the cheese mixture in the bottom and sides of the center of the hollowed out loaf of bread and set it aside. Sprinkle half the mozzarella and half of the parmesan cheeses over cream cheese. Spread the pizza sauce over the top cheese. Top the sauce with the green peppers, onions and then sprinkle the remaining cheeses over the top and the red pepper flakes if you want them. Bake, on a cookie sheet for 16 to 20 minutes or until bubbly. Serve with chips and crackers and the leftover chunks of bread from the loaf being hollowed out.  Serves 10 to 12.