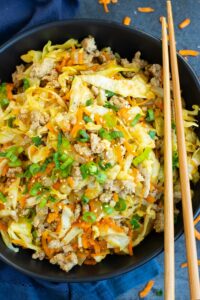 We all know the joke, where do you find all the Jews on December 25th? All together now. GOING OUT FOR CHINESE FOOD!!
While it is somewhat of a cliché this minhag was and still is actually a thing. It has it's origins  lo those many years ago in the early 1920's when the lower east side of New York was populated by soooooo many MOT with nothing to do on December 24th or 25th. The other members of a neighborhood/community that were non-Christian immigrants with nothing to do on those days and were culinary entrepreneurs was the  Chinese community. Truly a  shidduch  made in culinary heaven. One group likes to eat with no where to go and nothing to do and the other had restaurants with both kosher and no kosher options that are conveniently open on the days when all other retail and commercial business ground to a halt.
This year with so many restrictions in place to dining out I thought that putting a spin on some tried and true Chinese menu options to make at home would be the perfect way to spend the day when the only thing on TV are those "holiday" movies and ads for after Xmas sales.
DECONSTRUCT YOUR EGG ROLL BOWL
4 tablespoon sesame oil
2 lbs. ground chicken or turkey or firm tofu cut into cubes
1 28-ounce bag coleslaw
4 stalks celery, sliced thin
2 cans sliced water chestnuts, drained an chopped slightly
1 teaspoon kosher salt
1/2 teaspoon black pepper
1/2 cup soy sauce or tamari
2 tablespoon rice wine vinegar
2 tablespoon honey
1 tablespoon olive oil
1 tablespoon hot sauce
2 tablespoons minced garlic
1 tablespoon minced ginger
3  to 4 cups cooked white or brown rice
4 to 6 green onions, sliced thin
4 tablespoon sesame seeds
1 package won ton wrappers, sliced into ½ to ½ inch strips
Nonstick spray
Preheat oven to 375. Spray a cookie sheet (one with sides) with nonstick spray. Lay the strips of won ton on the cookie sheet and then spray with oil. Bake 5 minutes or until lightly golden. Remove immediately as they will burn very quickly. Place on paper towels to cool and then set them aside. You can also pan fry the strip with a little oil but the baking method is much easier and takes less time.
In a large skillet heat the 4 tablespoons of sesame oil and sauté the garlic and celery for about 2 minutes and then add the ground chicken or turkey or tofu. Cook for about 3 or 4 minutes and drain. Return the mixture to the cook top and add the coleslaw mixture and the water chestnuts and mix to combine. Continue cooking for 6 to 7 minutes. Season with salt and pepper.
In a bowl combine the soy sauce, rice wine vinegar, honey, 1 tablespoon sesame oil, hot sauce and ginger. Whisk to combine and add to the meat mixture. Mix to combine and cook for 3 to 5 minutes until the mixture is hot throughout.
To serve:  you can serve this on big serving platter or divide the rice between 7 or 8 bowls and make a small indentation in the center. Divide the meat mixture between the bowls and top with green onions, the toasted won ton strips and sesame seeds. Serves 7 to 8.
PACIFIC RIM WINGS
16 to 18 chicken wings
1 tablespoon brown sugar
3 tablespoons hoisin sauce
1 tablespoon soy sauce
3 tablespoons water or chicken broth
1 teaspoon rice wine vinegar
3/4 teaspoon salt
1/2 teaspoon black pepper
2 teaspoons minced garlic
2 green onions, sliced thin
1 tablespoon minced ginger
2 tablespoon sesame seeds
In a bowl combine the chicken wings with the brown sugar, rice wine vinegar, hoisin sauce, soy sauce, water, salt, pepper, garlic, scallion, and ginger. Heat oven to 350. Line a cookie sheet with sides with foil. Place the chicken wings on the sheet making sure they don't overlap or touch. Bake for 15 minutes. Flip them over and baste with the remaining marinade and bake an additional 10 minutes. Remove the pan for the oven and turn it up to broil. When preheated broil for 2 minutes, sprinkle the sesame seeds on top broil for an additional 2 to 3 minutes making sure the wings don't burn and remove from the oven immediately. Let sit for 2 minutes before serving. Makes 16 to 18 appetizers or snacks.