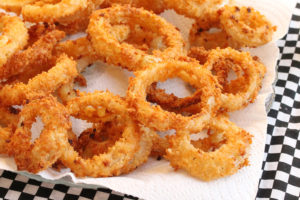 Canada Day was yesterday so, in honor of the day (and with a nod to the upcoming 4th of July)  I'm going to suggest that all of us that love our neighbors to the north combine our culinary expertise to utilize an ingredient that can be celebrated no matter on which side of the border you reside. I am, of course, talking about beer.
Seriously, you can cook with it and whether you want to use it as an ingredient or just a bump to your basting sauce, beer adds a unique and delicious flavor to bunch of dishes. Before the recipes, however, a few helpful hints.
First: Beer is fat free so keep in mind that when you replace milk, buttermilk, cream extra oil or an egg yolk to compensate for what you've taken out of the recipe.
Second: Beer has yeast in it so leaving agent. When you substitute it for water your bread or cake or roll will be a bit fluffier.
Third: Hops VS Malt
Hops tend to be a bit bitter so I suggest using a Malt Beer when cooking. It's sweeter so if possible, stay away from higher hop beers and Pale Ales. I like to use a stout, brown ale, or Belgian ale
Forth: You may need to add a bit more sugar to balance out any bitterness that you can get when you sugar will balance out any bitterness you might get when you bake with beer. Add a bit more sugar than you normally would to balance out the bitterness of beer.
BEER BATTER ONION RINGS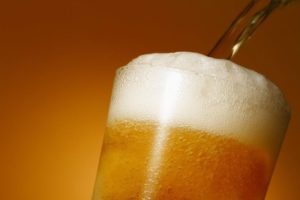 2 cups flour
1/2 cup panko bread crumbs
1 1/2 cups beer
2 eggs
1 cup milk or nondairy substitute
salt and pepper
1/4 teaspoon paprika
2 cups vegetable oil for frying
2 to 3 onions, sliced into rings
In a bowl combine 1 1/2 cup flour and beer. Mix gently with a wooden spoon just until combine. Let stand, at room temperature for 3 to 4 hours.
When ready to cook mix the eggs and milk (or non-dairy substitute) in a bowl and set aside. In another bowl combine the remaining flour, panko bread crumbs, paprika and salt and pepper. .
Heat oil to 375. Dip each ring of onion in the egg mixture then dip it into the flour/panko mixture, finally dip the vegetable in the beer and flour mixture. Fry until golden but make sure not to over crowd the pan. Serves 3 to 4
CHEESY PEPPER & BEER DIP
2 packages (8 ounces each) cream cheese, softened
1/3 cup beer or nonalcoholic beer
1 envelope powdered buttermilk ranch salad dressing
2 cups shredded pepper Jack cheese
1 red bell pepper, diced
In a large bowl, beat the cream cheese, beer and dressing mix until smooth. Stir in the diced pepper and cheese. Serve with pretzels, pita chips of vegetables. Yield: 3-1/2 cups.
SESAME BEER BREAD
3 cups flour
1 tablespoon baking powder
3 tablespoons sugar or honey
1 teaspoon salt
12 ounces (1 1/2 cup) beer, room temperature
1/4 cup butter or margarine, melted
2 tablespoons sesame seeds (I like to use the black ones)
Grease a 9-x-5-x-3-inch loaf pan and set it aside. Preheat the oven to 375. In a mixing bowl, combine the flour, baking powder and salt in a bowl. Add the beer, mixing a gently as possible, it should be lumpy. Pour the batter into the prepared pan then brush 1/2 of the butter or margarine on top. Sprinkle the sesame seeds on top and using a knife, gently swirl them into the bread. Spread the remaining butter or margarine on the top
Bake in the oven for 35 to 40 minutes, or until golden on top and a toothpick comes out clean. Cool on a rack for 10 minutes before serving. Makes 1 loaf