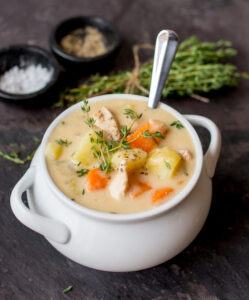 Chicken soup has long been touted as the penicillin of the culinary world. Good for whatever physical ailment you are suffering from and every mother (or father,  truly, I am all for equal cooking opportunities in the kitchen) knows that the "secret" ingredient you must add that makes a good chicken soup a great, terrific, awesomely delicious chicken soup is love.
Right now, with all the "crazy" that is politics and Covid that has seemly overwhelmed our country we could all use as much love (and comfort) as we can get to sustain us for the next few days, weeks and months until things settle down politically, the vaccine can be distributed and the "frozen" that has gripped our nation for the past year begins to thaw.
The following twists on the classic chicken soup is takes the comfort and adds a bit of pizazz and I promise, these recipes  will become your default when you feel like you just need something a little (but not too much) different. In my opinion, they are both even better the second day.
EILEEN'S CHICKEN POT PIE SOUP
5 potatoes (3 boiled for mashing and 2 raw diced)
1 large onion, chopped
3 to 5 stalks of celery, chopped
2 teaspoons minced garlic
4 carrots, peeled and sliced into rounds
1 to 2 tablespoon margarine or oil
4 Tablespoons flour
3 boneless, skinless chicken breasts, cut into small chunks
1 to 1½ cup frozen peas
1 to 2 cups uncooked small shell pasta
½ to 1 teaspoon poultry seasoning
Salt/pepper
Onion salt
6 to 8 cups chicken broth
In a large stockpot sauté the onions, garlic and celery in the margarine or oil until they are slightly soft. Add the flour to the mixture, stirring constantly for about 2 minutes.
Pour the broth over the vegetables, mix to combine and add the cut-up chicken, cut up potatoes, carrots, pasta, and peas and poultry seasoning. Stir well to mix and then cover and cook over a medium heat for about 1/2 hour. Check every 10 minutes and stir once or twice to make sure that nothing is sticking on the bottom of the pot.
After the soup has been cooking for about 1/2 hour add the mashed potatoes, stir well to combine and the salts and pepper to taste. Let the soup cook for about another 10 minutes.
Depending on how much broth and noodles you added, the soup may be VERY thick. You can thin it with more broth or water. Make sure not to use too much salt to start, as the taste will concentrate as it cooks. You can make this soup a day or so ahead of time and reheat by adding a little water or broth. You can add more seasonings like thyme and celery salt if you like. Serves 6 to 8
HOT AND SOUR CHICKEN SOUP
4 cups chicken broth
1/2 to 1 cup water
2 cups sliced fresh mushrooms
2 stalks celery, sliced thin
½ cup sliced bamboo shoots, drained
1 can sliced water chestnuts, drained
3 slices fresh ginger, peeled and minced
2 teaspoons minced garlic
2 teaspoons soy sauce
¼ teaspoon red pepper flakes
1 ½ lb.  boneless, skinless chicken breasts cut into small pieces (you can use thighs or a mix of both)
1 tablespoon sesame oil
3 green onions, chopped
¼ cup chopped fresh parsley
3 tablespoons white vinegar
2 tablespoons cornstarch
1 egg, beaten
In a saucepan, combine the chicken broth, water, mushrooms, celery, bamboo shoots, water chestnuts, ginger, garlic, soy sauce, and hot pepper flakes. Bring the mixture to a boil, then reduce to a simmer. Cover and cook for 5 minutes.
In a bowl combine the chicken pieces and sesame oil, mix to coat. In a different bowl, combine the cornstarch and vinegar and mixt to combine.
Bring the soup mixture to a boil and add the chicken pieces, Mix to combine.  Using a circular motion stir the soup while slowing pouring the beaten egg into the soup. Stir for about 1 minute while the egg sets up. Immediately after you finish adding the egg pour in the cornstarch mixture. Mix rapidly to combine then gently until the soup starts to thicken and the chicken is cooked about 4 or 5 minutes. To serve, ladle the soup into bowls and top with parsley and green onion slices. Garnished with green onions and cilantro. Serves 6 to 8.
© Eileen Goltz csoup