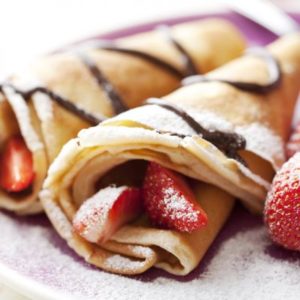 I know it's crazy that we just finished cleaning up from Pesach and I'm starting to plan for the next holiday but, come on, it's Shavuot, the dairy holiday and I've given myself permission to go cheese cream and butter crazy trying out some new recipes.
In my defense, there is ample scientific proof that a diet that consists of less meat, more vegetables and fruits can lead to a healthier and longer life. That is not to say that you can go crazy with a ton of eggs or cheese or butter, but rather using those ingredients ALONG with some fun stuff like fruits and vegetables and even chocolate can stretch your food budget and make your meals really fun and interesting.
For those of you with milk allergies or are on lactose restricted diets you can always substitute non dairy margarine for butter and rice or soy milk for milk or cream. A wonderful company called Tofutti makes terrific non dairy substitutes for sour cream and cream cheese. They can usually be found in the health food refrigerator section of your grocery.
STRAWBERRY BANANA CREPES
This is a great breakfast treat for kids of all ages or as a nice dessert
2 eggs
1/2 cup milk
2/3 cup water
2 tablespoon oil
1 1/3 cup flour
1/2 teaspoon sugar
1 pinch salt
3 tablespoons melted butter
2 cup sliced fresh strawberries
1 banana (sliced just before you fill the crepes)
1 to 2 cups vanilla or strawberry yogurt
3 to 4 tablespoon chopped pistachios or pecans optional
In a large bowl combine the egg, milk, water and oil, whisk to combine. Add the flour, sugar and salt and continue whisking until the mixture is smooth.
Heat a medium, nonstick skillet or omelet pan over medium heat. Brush the bottom of the pan with a little of the melted butter. Pour about 1/4 to 1/3 cup batter into center of pan, tilting to coat the bottom. Cook until golden brown on one side then flip it over and cook for another minute. Place the cooked crepes on a plate and continue until the batter is used up. To fill, place a line of sliced strawberries and bananas about 1/3 of the way from the bottom of the crepe and then roll it up. You can over fill it if you like; it looks really great with the strawberries falling out of the ends. Place the filled crepe on the serving plate and top with the vanilla yogurt. If there is extra melted chocolate left drizzle it over the top (you can always melt more if you want) and sprinkle the chopped nuts over the top. Makes 6 to 8 crepes
2 CHEESE STUFFED SHELLS
1 package (10 ounces) frozen chopped spinach, thawed, well-drained
1 cup ricotta cheese
8 ounces grated Parmesan cheese
1 teaspoon minced garlic
1/2 tablespoon oregano
1 teaspoon basil
1/2 cup chopped red pepper
1/2 cup chopped green onion
12 jumbo pasta shells, cooked, drained and rinsed in cold water
1 1/2 cups marinara sauce (jarred stuff works just great)
Preheat oven to 350. In a bowl combine the drained spinach, red pepper, oregano, basil, onion, garlic, ricotta cheese and about 3/4's of the parmesan cheese. Mix to combine. Fill shells with the spinach mixture; place in 9X13 baking dish. Pour the sauce over shells and top with remaining parmesan cheese. Bake stuffed shells for 20 minutes. Serves 6 to 8.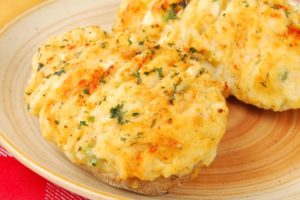 PEPPER JACK STUFFED POTATOES
4 large baking potatoes
2 tablespoons butter
1 tablespoon minced garlic
1 tablespoon minced onion
3/4 cup sour cream
2 tablespoons chopped fresh parsley
1 cup pepper jack cheese, shredded
2 tablespoons green onion, chopped
1 tomato, chopped (optional)
salt and pepper, to taste
chopped fresh parsley for garnish (optional)
Heat oven to 400. Bake potatoes for 45 minutes or until tender. When they are cool enough to handle, cut them lengthwise and scoop out the center of the potato and leave a 1/4 inch shell. Set the shell aside to cool. In small pan melt the butter. Add the garlic and onion and cook for about 2 minutes. In a bowl mash the cooled scooped out potatoes. Stir in the onion/garlic/butter mixture, pepper jack cheese, sour cream, parsley, salt and pepper. Mix well. Divide the mixture between the potatoes shells and pack it down slightly. Place the filled shells on a baking sheet. Bake for 10 to 15 minutes or until heated through. Sprinkle the top with the chopped tomatoes and green onion. Add more cheese if you want to. Return to oven for 5 more minutes and then serve. Garnish with chopped parsley and serve. Makes 4.