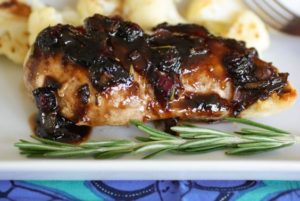 The blueberry is one of my favorite fruits. Since it's one of North America's few native fruits I thought that it was wholly appropriate that we celebrate, glorify, and eat as much of them in as many ways as we can on these last days of Pesach.
Harvesting of blueberries begins in April (just in time for Pesach, yea!) and they aren't just delicious they are incredibly good for you. They provide about 5 grams of fiber per cup (more than most fresh fruits) and I cup of fresh blueberries contain about 15% of our recommended Daily Value of vitamin C.
You should look berries that are firm and dry. The skin should be smooth and deep purple-blue, with a silvery-white bloom. Storing fresh blueberries is simple. They should be covered while stored in the refrigerator and used within 10 days of being purchase. They should be washed just before you serve them.
The recipes below should help make the last few days of the Passover fun, deliciously different and matzo free.
CHICKEN BREASTS WITH BLUEBERRIES (meat)
4 chicken breasts, skinned and boned cut in half
1 1/2 tablespoon oil
2/3 cup apricot jam
3 tablespoons prepared white horseradish
½ to 3/4 cup blueberries
1/3 cup white wine
Preheat oven to 350. Heat oil in frying pan. Add the chicken and brown about 3 minutes on each side. Place them in a 9X13 baking pan.  In small bowl combine the jam and horseradish and mix well. Spread the jam mixture over browned chicken in the pan and then sprinkle the blueberries over the top. Cover the pan with foil and cook till the chicken is no longer pink in thickest part approx. 20 to 25 minutes. With a slotted spoon, Place the chicken and blueberries on a serving platter. Pour the liquid from the pan into a sauce pan, add the wine to the mixture, and bring the sauce to a boil stirring for about 4 or 5 minutes until the mixture thickens slightly. Pour the sauce over chicken and serve.  Serves 4
BLUEBERRY SPINACH SALAD (pareve)
Dressing:
3 tablespoon sugar
2 tablespoon vinegar
1 tablespoon mayonnaise
1/8 teaspoon salt
1/4 cup oil
Salad:
20 oz fresh spinach, washed and trimmed and dried
1 cup fresh blueberries
3 oranges or 5 clementine
1/2 cup slivered almonds
Combine the sugar, vinegar, mayonnaise, salt and oil in a small mixing bowl. Whisk to combine and set the dressing aside. Tear the spinach into bite-sized pieces and place them in a salad bowl. Peel the oranges; separate them into sections and cut into thirds. Add the oranges, blueberries, and nuts to the spinach. Pour the dressing over the salad. Toss lightly to mix. Serves 6.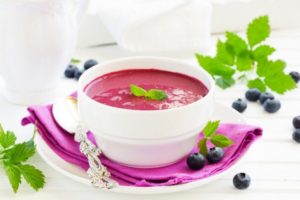 BLUEBERRY SOUP (pareve or dairy)
This simple start to a meal is very easy to make. You can keep pareve or add a little cream or milk to jazz it up.
3 cups water
4 cups fresh or dry-packed frozen blueberries, rinsed and drained
3/4 cup sugar
2 tablespoons potato flour (or corn starch after Pesach)
2 tablespoons cream or milk (optional)
dash of cinnamon (optional)
Bring water to a boil in a large saucepan. Add the berries and sugar and cook several minutes, stirring occasionally. In a small bowl mix the potato flour with a small amount of cold water. Stir into berry mixture and bring it to a boil, reduce to a simmer for 1 minute and remove from the heat. Cool, cover and refrigerate for 3 to 4 hours. A dash of cinnamon over the top just before serving is a nice touch. You can stir in the cream or milk just before serving if you like and can serve with a dollop of sweetened whipped cream as a garnish if you like. 6 servings.
GRILLED CHICKEN WITH BLUEBERRY BBQ SAUCE (meat)
6 bone in chicken breasts
2 cup fresh blueberries
1/4 cup balsamic vinegar
3 tablespoon honey
3 tbsp ketchup
1/2 teaspoon garlic powder
1/2 teaspoon ground ginger
In a sauce pan combine the blueberries, vinegar, honey, ketchup, garlic powder and ginger. Bring the mixture to a boil then reduce to a simmer and cook for 10 to 12 minutes until the sauce thickens. Remove from heat and allow the sauce to cool. Pour the BBQ sauce into a blender and blend until smooth. Put the chicken breasts and a 1/3 cup of BBQ sauce into a zip top bag and coat well. Marinate in the refrigerator for 30 minutes to an hour. Reserve the rest of the sauce for serving. Broil the chicken until cooked, 7-8 minutes per side. Top the chicken with the BBQ sauce and serve. Serves 6.