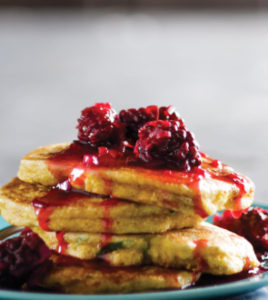 One of my readers begged me for recipes using strawberries and blueberries and blackberries. I told her I'd get right on that. I told  her that when they're at these bargain prices she should load up on whatever berry is on sale that week and use them as much as she can and then freeze the leftovers to use later when they're not so cheap. In my response to her response I asked her what she was looking for in the way of recipes and her reply was, and I quote "anything that isn't the same "old boring spinach and strawberry salad  or blueberry muffin recipe you see in every newspaper or magazine for the past 30 years".
I pondered her challenge for about 30 seconds and dove right into my treasure trove of "gotta try this someday" recipes and came up with quite a few different, unusual and downright spectacular non run of the mill recipes. So ladies and gentlemen and children of all ages, grab whatever kind of berry you like (and for the most part they are interchangeable in the following recipes) and start your ovens, mix masters and blenders and let the creating begin.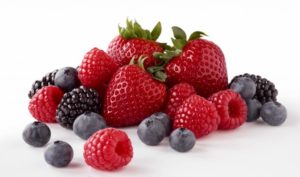 1 cup = 7 to 8 sliced strawberries
1 (16 oz.) pkg. blue or raspberries equals approximately approx 1 3/4 to 2 cups
CORN CAKES WITH BLACKBERRY OR BLUEBERRY SYRUP (dairy or pareve)
Syrup:
1 pint blackberries or blueberries
1 1/2 cups maple syrup
Corn Cakes:
1 cup flour
1 cup yellow cornmeal
1 tablespoon sugar
1 teaspoon baking powder
1/2 teaspoon salt
1 1/2 cups corn kernels, fresh or frozen or canned
1 1/2 cups milk or non dairy substitute
2 large eggs
Oil for oiling the griddle
1 cup berries for garnish
To make the blackberry syrup, combine the berries and syrup in a medium saucepan. Bring to a boil over medium heat, stirring often. Reduce the heat and simmer until the berries have broken down and combined with the syrup, about 5 minutes. Remove the syrup from the heat and keep it warm.
To make the pancakes, preheat the oven to 200. In a bowl whisk together the flour, cornmeal, sugar, baking powder, and salt. In a food processor or blender, combine 1 cup of the corn kernels and the milk and process until smooth. Add the eggs and process to combine. Pour the corn mixture into the flour mixture and stir just until smooth. Fold in the remaining corn.
Heat a griddle over high heat until the griddle is very hot and then lightly grease the griddle. Using a ladle use spoon about 1/4 cup batter onto the griddle for each pancake. Cook for about 2 minutes or until the top of the pancake is covered in bubbles. Flip the pancakes and cook for an additional 1 minute or 2. When cooked place the corn cakes on a cookie sheet and keep warm until the rest of the corn cakes are done. Serve hot with the berry sauce and extra berries. Serves 4 to 6
BREAD CUSTARD WITH BLUEBERRY SAUCE (dairy)
1 loaf French, Italian Bread or challah, sliced
4 eggs
1 cup whipping cream or half and half
1/4 teaspoon baking powder
1 teaspoon vanilla
5 cups blueberries (approx 1 1/2 pounds fresh or 2 (12-ounce) bags frozen)
1 cup chopped pecans (optional)
1 teaspoon ground cinnamon
1/2 cup sugar
2 tablespoons cornstarch
2 tablespoons butter, melted
Powdered sugar
Place the bread slices in an ungreased 9X13 pan and set it aside. In a bowl combine the eggs, milk, baking powder, and vanilla together and whisk to combine. Pour the egg mixture over the bread, turning to coat the bread completely. Cover with plastic wrap and refrigerate for 1 to 2 hours or overnight.
Preheat oven to 450. Grease another 9×13-inch baking pan. In a bowl combine the blueberries (don't defrost if frozen), chopped nuts (if using), cinnamon, sugar, and cornstarch and then spread it over the bottom of the prepared pan. Gently place the pieces of bread that have been soaking on top of the berry mixture. Make sure that the pieces are mushed together so there are no gaps. Brush tops of the bread with melted butter. Bake uncovered for 20 to 25 minutes or until the top is golden and the berries are bubbling around the sides. Remove from the oven and let set for 5 minutes, sprinkle with powdered sugar and serve.
NOTE: I've made this dish using with raspberries, peaches, strawberries and a mixture of a few fruits.  Serves 6 to 8.
CORN CA