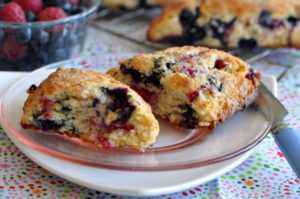 I just planted 3 blueberry bushes, 3 raspberry bushes, 2 packages of sunflower seed, 4 clematis and anyone who knows me will take the bet that they won't survive the summer with me as their gardener. Every year, try as I might to grow some kind of fruit or vegetable bearing plant some major disaster (which is never my fault) claims them as victims of my brown thumb. Too much water (I forgot to turn off the hose) too little water (remember last year's drought?), bugs (icky, won't even touch them) or fungus (I had no clue what that funky stuff was or where it came from) always seem to get in the way of me growing my own "stuff".
While I'm going to have to wait for the berries to actually grow and produce something other than amusement for my family and friends, I'm going to content myself with utilizing the blueberries, raspberries and black berries that are in season right now and available for WAY less then they were a few weeks ago.
One of the biggest complaints I get from readers when utilizing berries in a muffin or other bakery treat is that they seem to sink to the bottom of the pan making.  Most of the time it's because the batter is too thin and the berries are heavier than the batter or  the batter has been over mixed (too much air in the batter) causing the batter to fall and taking the berries with it. You can mitigate the drop of the berries by coating them with flour before stirring them into the batter or instead of mixing them into the batter spread half of the batter in the pan or muffin pan,  place the coated berries and top then cover with the remain batter and placing a few berries on top.
While hope springs eternal I'm hedging my bet that nothing will grow and buying tons of berries while they're in season. I'm using as many as I can and freezing the rest for those fall and winter days when a taste of summer is what gets me through until I can replant my berries and start the cycle all over again.
BERRY SCONES (dairy or pareve)
4 cups flour
6 tablespoons sugar
4-1/2 teaspoons baking powder
1/2 teaspoon salt
1/2 cup plus 2 tablespoons cold butter or margarine
2 eggs
3/4 cup plus 2 tablespoons milk or non dairy substitute, divided
1 1/2 cups fresh or frozen blueberries, raspberries or blackberries
Sugar for sprinkling
Preheat oven to 375. Grease 2 cookie sheets (you can use parchment paper if you prefer). In a bowl, combine the flour, sugar, baking powder and salt. With 2 knives or a pastry cutter cut in the butter just until the mixture resembles coarse crumbs. In another bowl, whisk together the eggs and 3/4 cup milk. Add the egg mixture to dry ingredients and combine, gently, just until moistened (do not over mix). Turn the dough out onto a lightly floured surface. VERY GENTLY knead in the blueberries.
Divide the dough in half. Pat each portion into an 8 inch circle. Cut each circle into eight wedges. Place the wedges on the prepared baking sheets. Brush the top of the wedges with the remaining milk and sprinkle with a little sugar if you want to use it. Bake for 15 to 20 minutes or until tops are golden brown. Serve warm. Makes 16 scones.
CHICKEN AND BERRY WRAPS (meat)
3 tablespoons pareve sour cream
2 tablespoons mayonnaise
2 to 3 stalks of celery, chopped
1/4 teaspoon salt
2 cups diced cooked chicken (you can use turkey or deli meat cut into cubes)
1 cup fresh blueberries or raspberries
6 large lettuce leaves
6 large tortillas
In a bowl, combine the pareve sour cream, mayonnaise, celery and salt. Gently stir in the chicken and berries. Warm the tortillas in the microwave. Top each tortilla with a lettuce leaf and then top with about 1/2 cup of the chicken. Roll up the tortilla, cut them in half. If you're going to eat them immediately you can use a toothpick to keep them in shape. If you're going to eat them later wrap them in plastic wrap and refrigerate. Makes 12 wraps.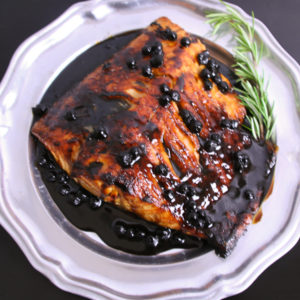 GRILLED SALMON WITH BLUEBERRY SALSA (fish)
2 to 3 lbs salmon steaks (6 to 8 depending on the size)
2 1/2 tablespoons lime juice
3 tablespoons olive oil
1/2 teaspoon pepper
1/2 teaspoon kosher salt
Blueberry salsa
1 1/2 to 2 pints fresh blueberries
1tablespoon finely chopped jalapeno pepper
2 tablespoon minced shallots or sweet onion
1/4 tsp kosher salt
2 tablespoons finely chopped parsley
1 tablespoon chopped mint
1 tablespoon chopped basil
1 tablespoon fresh lime juice
In a plastic self closing bag combine the lime juice, oil, black pepper and salt
Add the salmon steaks, close tightly and toss to coat with marinade and set aside (at room temperature) for 10 minutes.
While the salmon is marinating make the salsa. Put 1 pint of the blueberries into a large bowl and mash them. Add the jalapeno, shallots, salt, parsley, mint, basil and lime juice and mix to combine. Preheat the grill or your grill pan. Grease whichever one you're using with a little oil. Remove the salmon from the marinade and discard the marinade. Grill each side 4 to 5 minutes (you'll get score marks and the fish should be firm but still give to the touch) .Place the salmon on a serving platter or on individual plates and drizzle some salsa over the top of each piece of salmon. Sprinkle the remaining berries over the top. Serve with the remaining salsa. Serves 6 to 8. This recipe can be doubled or tripled.