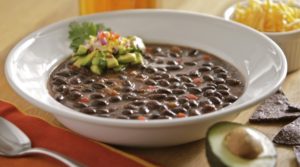 The cold rains and winds of the fall are knocking on my window pane and for me there is no better way to ward them off than a nice big hearty bowl of soup. It just so happens that I to like to use beans in my soup to add body and flavor and thickness. Yes, I know all those little 5 year olds inside you are chanting the ditty, beans beans the magical fruit, the more you eat the more you………..well, you know the rest. Truly though, beans really are good for you and they add a flavor and texture to the soup that makes it spectacular.
Beans are one of the good guy foods; they don't add cholesterol to your diet and have almost no fat. They're a terrific source for vitamin B source, fiber (you can never get enough of that good stuff) and potassium. They've been shown to aid digestion and actually help lower cholesterol.
There are tons of different kinds of dried and canned beans that you can use in a soup. Right off the top of my pretty little head I can suggest kidney, lima, white, great northern, black and navy beans. Most have subtle flavors and take on the taste of the spices and other ingredients you add to your recipe.
The following recipes can, of course, be made non vegetarian (pareve)  by using chicken or beef broth but to my mind, they're absolutely perfect the way they are . They're all very forgiving so if you want to add a few more carrots or tomatoes or even rutabaga be my guest. As with all soups, the measurements are never quite exact and can be personalized to reflect your own special tastes.
GARBANZO BEAN SOUP (pareve)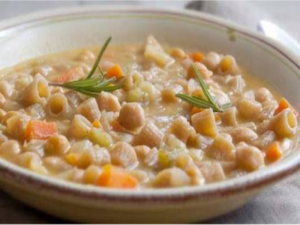 1 large can garbanzo beans drained and rinsed
1 sweet potato or acorn squash peeled and cubed
1/2 teaspoon cinnamon
1 tablespoon cumin
2 chopped tomatoes
1 onion, chopped
1/4 teaspoon cayenne pepper
2 cups shredded carrots
5 cups  vegetable broth
2 cups fresh spinach, shredded
1 teaspoon salt
3/4 teaspoon pepper
Pour the broth into a large stock pot and heat to a boil. Add the tomatoes, sweet potatoes, onions, onion, carrots and cinnamon. Reduce the soup to a simmer and cook for 25 to 30 minutes. Stir every 10 minutes or so. Add the garbanzo beans, cumin, black pepper, cayenne pepper and salt. Mix to combine, cover and simmer for and additional 20 to 30 minutes. Add the spinach 5 minutes before you're ready to serve and cook the 5 minutes and then serve. Serves 8.
TUSCANY WHITE BEAN SOUP (pareve)
4 cans white beans, drained
1/2 cup white wine
5 tablespoon olive oil
1 medium onion, finely chopped
1 tablespoon minced garlic
1 bay leaf
2 carrots, finely chopped
2 stalks celery, finely chopped
1 teaspoon thyme
2 tomatoes, peeled, seeded and chopped
salt and pepper to taste
3 1/2 cups boiling water or vegetable  broth
Place 3 cans of the drained white beans and the wine in the bowl of a food processor, process to smooth and set it aside. In a soup pot saute the onions carrots and celery together in the olive oil. Cook for about 5 minutes and then add the garlic, thyme and tomatoes and cook for 8 minutes, stirring constantly .
Add the boiling water, the remaining beans and the processed beans. Stir the mixture until combined. Season to taste with salt and pepper. Simmer on low heat for 15 minutes. Serves 6
Submitted by Dov Lubiner NY, NY
BLACK BEAN SOUP (pareve)
2 to 3 tablespoons olive oil
1 onion chopped into small pieces
2 teaspoons minced garlic
3 stalks celery chopped fine
2 carrots chopped fine
1/2 cup jicama, julienned
1 fresh jalapeno seeded and minced
1 1/2 teaspoons chili powder
1 1/4 teaspoons ground cumin
1/4 teaspoon dried oregano
2 (19-ounces) cans black beans, drained and rinsed
3 to 4 cups vegetable broth
1 bay leaf
1/2 teaspoon salt
pepper to taste
In a soup pot saute the onion, garlic, celery, carrot and jalapeno in the oil for about 5 minutes. Add the chili powder, cumin, oregano, and 1/2 teaspoon salt and cook for an additional 7 or 8 minutes. Add the beans, broth, and bay leaf and simmer, covered, stirring occasionally, until soup is slightly thickened, about 10 to 15 minutes. Remove about 2 cups of the soup and puree it (our use an immersion blender for just a minute or so, making sure not to puree everything) and add it back to the soup pot. Add the jicama and cook for 5 minutes, remove the bay leaf and season with salt and pepper and serves. Serves 6,
PUMPKIN AND BLACK BEAN SOUP (meat or pareve)
2 boneless skinless chicken breasts cut into bite size pieces
2 cans black beans, drained and rinsed
1 can (14.5-oz) diced tomatoes
2 cups pumpkin puree (fresh or canned)
1 onion chopped
1 tablespoon minced garlic
4 tablespoons olive oil
4 cups chicken or vegetable broth
1 tablespoon cumin
1 teaspoon salt
1 teaspoon cinnamon
1 teaspoon all spice
1 teaspoon pepper
3 tablespoons apple cider vinegar
In a stock pot heat the oil and add the chicken onion, garlic, cumin, salt, cinnamon allspice and pepper. Cook on low heat until the onion and garlic are light golden brown and the chicken is cooked throughout. In a food processor puree the beans and tomatoes with 2 cups of broth. Add pureed ingredients, pumpkin and rest of broth to the vegetables and chicken in the stock pot. Simmer uncovered for about 40 to 45 minutes or until the broth is slightly thickened. 5 minutes before serving stir in the vinegar, cook 5 minutes and then serve. 6 servings
BEAN AND RICE SOUP (pareve)
1 onion, chopped
3 carrots, thinly sliced
2 stalks celery, thinly sliced
4 cloves garlic, minced
1/2 teaspoon ground cumin
1 1/2 teaspoon dried basil
1/2 teaspoon chili powder
1/2 teaspoon dried oregano
1/2 teaspoon Tabasco sauce
2 16 oz. cans black beans, drained and rinsed
1 14 1/2 oz. can crushed tomatoes
2 14 1/2 oz. cans vegetable broth
1 1/2 cups cooked rice
Combine all ingredients EXCEPT the rice in the crock pot. Cover and cook on low for 8 to 10 hours. Add the cooked rice just before serving. 8 servings.