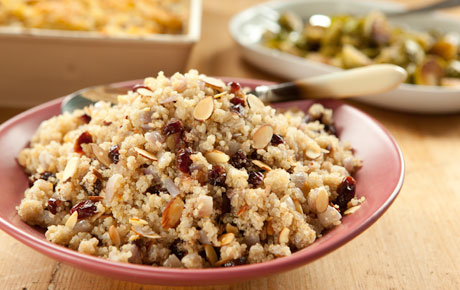 So there I was, pulling stuff out of my pantry in a crazed moment of  what am I going to make for shabbos that is not the same old rice or potatoes and lo and behold, I discovered an open box of barley I had conveniently misplaced behind the other opened boxes of pasta, wild rice and ramen noodles. Eureka moment, I absolutely have tons and tons of recipes that utilize this great grain and what better time to share them than Friday night when the weather is getting colder.
Barley is kind of a super fiber filled food and who can't use more fiber in their diet these days. There are two types of barley,  pearl barley (processed with its outer fibrous hull removed) and Scotch barley (less processed) which is best in hearty stews and crock pot casseroles.
Barley has a slightly nutty and chewy flavor. I like to toast it (for 8 to 10 minutes in a skillet over a low heat) before cooking it to bring out its more robust flavor. You should know that barley expands A LOT when it cooks so make sure you have enough liquid to keep it from scorching. 1 cup dry barley expands to makes approx. 3 cups cooked barley. In the event, unlike me, you need to purchase some barley to make the following recipes please try and steer clear of the quick cooking kind. In my opinion, it's just a poor imitation of the real stuff. Yes you can use the quick cooking barley if you're in a hurry but for my money and taste the slower cooking kind is better in terms of flavor and texture.
BARLEY CHICKEN STIR FRY (meat)
1/2 cup barley
1 cup water
2 tablespoons sesame oil, divided
2 boneless skinless chicken breasts or 6 chicken thighs cut into bite-size pieces
2 teaspoons minced garlic
1 small peeled and diced eggplant
1/2 cup red bell pepper, chopped
1/2 cup onion, chopped
3 tablespoons chopped fresh basil leaves or 1 tablespoon dried
8 to 10 drops hot sauce
1 tablespoon brown sugar
1 tablespoon peanut butter
1 teaspoon soy sauce
1/4 cup chopped peanuts
1 cup shredded red cabbage
1/2 cup chopped cucumber
Place the barley and water in a saucepan and bring the mixture to a boil. Reduce the heat to low, cover and cook 45 minutes or until barley is tender and liquid is absorbed. Set the barley aside. In large skillet heat 1 tablespoon oil. Add the chicken and garlic and stir fry 3 to 4 minutes. Add the cooked barley to the pan and cook, stirring constantly for 3 minutes. Remove the mixture to a bowl and set it aside. Do not clean the pan. Add the remaining oil to the skillet. Add the eggplant, pepper and onion and cook for 2 to 3 minutes. Add the basil, hot sauce, sugar, peanut butter and soy sauce; cook, stirring constantly for  2 more minutes. Add the barley mixture to the vegetable mixture and cook, stirring constantly for 3 to 4 minutes. Spoon the mixture into the serving bowl and garnish with peanuts, cucumber and red cabbage. Serves 4.
ORANGE ALMOND AND BARLEY SALAD (meat)
2 cups hot cooked barley
4 to 5 tablespoons sesame oil
1 1/2 teaspoon rice wine vinegar
1 tablespoon sugar
3-1/2 to 4 cups shredded romaine or red leaf lettuce
1 can (11 ounces) mandarin oranges drained but save 2 tablespoons liquid
1-1/2 to 2 cups cubed cooked turkey or chicken
1/2 cup sliced celery
1/4 cup sliced green onions
1/2 cup dried cranberries
Rice noodles, for garnish
2/3 cup toasted almonds
Place the hot cooked barley into a large bowl. Drizzle the sesame oil, rice wine vinegar and sugar over the hot barley, mix gently to combine.  Cover the barley and refrigerate it for at least 1 hour. Uncover and gently fold in the mandarin oranges, orange liquid, turkey, celery, dried cranberries and green onions to the cold barley. Toss gently to combine. Divide the salad greens between 4 dinner plates. Mound the barley mixture over the greens. Sprinkle the top of each salad with the rice noodles and almonds for garnish. Makes 4 main course servings or 8 salad servings.