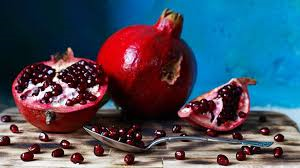 QUICK, name a fruit that is tart and tangy (and stains), is trotted out for the holidays but rarely pops up on your menu (and did I mention stains and is hard to peel) and while delicious is never ever a main ingredient (and yes even cooked it stains)? Yep, I'm talking about the pomegranate.
This ruby red fruit has a history as old as our ancestors. In fact, there is a theory that it was the pomegranate and not an apple that Eve fed Adam in the Garden of Eden.
No matter where this fabulous fruit sprung from (some say Egypt others say Persia or India) it's one food that should be incorporated in your diet year around. The juice has three times more antioxidants than green tea and red wine. Unlike some fruits Pomegranates don't ripen after they're picked so when you're searching for the perfect pomegranates look for one that feels heavy for its size and the skin shouldn't have cuts or bruises.
Before you get to the recipes you have to pass peeling a pomegranate 101
HOW TO SURVIVE PEELING A POMEGRANATE:
Using a sharp knife, remove the top and bottom of the pomegranate. Place the pomegranate in a bowl of cool water. Cut the pomegranate into quarters.
Holding the edges of a quarter bend it and, using your fingers (under the water), pull the seeds away from the skin and membrane. The seeds will sink to the bottom of the bowl and the extra membranes tend to float. When you've finished drain the bowl and pick out the left-over pieces of membrane. Store in a covered container.
POMEGRANATE AND GRAPEFRUIT SALMON BAKE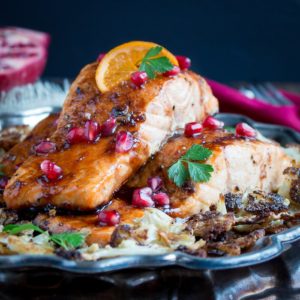 1 sweet onion, thinly sliced
2 stalks celery, sliced into 1-inch pieces
1 large skinned salmon fillet ( 2 to 3 pounds)
1 teaspoon salt
1 teaspoon ground pepper
1 ruby red grapefruit, thinly sliced
1 cup pomegranate seeds
2 tablespoons olive oil
1 tablespoon minced fresh dill
1/2 cup toasted sliced almonds (optional)
Preheat oven to 375. Place a 30×18-in. piece of heavy-duty foil in cookie sheet (with sides). Place onion slices and celery in the center of the foil. Place the salmon on top of the vegetables and sprinkle the pepper and salt on top. Place the grapefruit slices over the salmon and then sprinkle with pomegranate seeds over the grapefruit. Drizzle the olive oil over the top. Place a 2nd sheet of 30×18 foil on top and crimp the sides to make a packet. Poke a few holes in the top to allow the steam to escape
Bake 25-30 minutes. Remove the grapefruit slice and place the fish on a serving platter; Garnish with almonds and dill. Serves 4 to 6.
ORANGE POMEGRANATE GREEN BEANS
2 1/2 to 3 pounds fresh green beans, trimmed
1/3 cup orange juice
1/4 cup pomegranate juice
3 tablespoons butter or margarine
2 tablespoons rice wine vinegar
1 tablespoon maple syrup
2 teaspoons grated orange zest
1 teaspoon onion powder
1/2 teaspoon salt
1/4 teaspoon pepper
1/4 cup dried cherries
1 to 2 tablespoons chopped parsley
Steam the prepared green beans until crisp-tender. About 7 to 9 minutes. In a skillet combine the orange juice, pomegranate juice, butter or margarine, vinegar, maple syrup, orange zest, onion powder, salt and pepper. Bring the mixture to a boil; cook for 5 minutes or until the syrup is reduced to a thicker consistency. Stir in the dried cherries and mix to combine. Add the beans and stir to coat and cook for 1 to 2 minutes. Place in a serving bowl and garnish with chopped parsley. Serves 8.
POMEGRANATE PISTACHIO CRUDITE
40 slices French bread baguette (1/4 inch thick)
4 to 6 ounces cream cheese, softened
2 to 3 tablespoons orange juice
2 tablespoon honey
40 spinach baby leaves
1 1/2 cup pomegranate seeds
1 cup finely chopped pistachios
2 tablespoons sesame seeds
Preheat oven to 400. Place the bread slices on baking sheet (ungreased). Bake unti 4-6 minutes just until lightly toasted and golden. Remove quickly and cool.
In a bowl of an electric mixer or food processor combine the cream cheese, orange juice and honey until blended. Using knife spread the cream cheese mixture over the pieces of toasts. Divide the pistachio, pomegranate seeds and sesame seed between the slices of bread. Garnish with the spinach leaf. Makes 40.