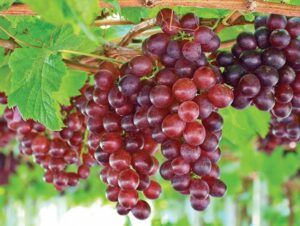 Tu'Bishvat was always amusing when my kids were little. I'd mention the word "Seder" and the entire family would start running in the opposite direction moaning and groaning about what a pain in the butt cleaning is. I am like, no, wait, stop, it's not time for the kind of Seder…………….yet, and  then they were like, oh yeah, it is that "other" Seder where you talk about planting trees (yes we still do) other stuff and make us eat stuff. I'm like how is that different than the other Seder and without missing a beat they say "afikomen".
Yes folks, it's time to find ways to bring delicious while enjoying the seven species (wheat, barley, grape, fig, pomegranates, olive, and date listed in (Deuteronomy 8:8) as the only offerings  allowed in the Temple. Tu'Bishvat starts tomorrow night (Jan. 27th) and I am really ready to be able to "zoom" with family and friends to celebrate.
Yes, I have the plate on the table with all the 7 species represented while we discuss the meaning of the day but, in addition, I always try to create dishes that incorporates at least 3 to 4 of these ingredients so that celebrating Tu' Bishvat is tasty as well as meaningful. The following recipe has 5 of the 7 so, I am just saying, make this and you have got them covered. You are on your own for the barley and grapes.
TU' BISHVAT DATE AND FIG BREAD WITH POMEGRANATE GLAZE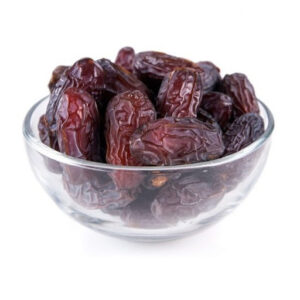 1 cup chopped dates
1 cup chopped dried figs
3 tablespoons unsalted butter, softened
1 tablespoon olive oil
1 ½ teaspoons baking soda
1 cup boiling water
1/4 cup brown sugar
1/4 cup white sugar
½ cup chopped pecans
2 eggs
¾ cup flour
¾ cup whole wheat flour
½ teaspoon baking powder
½ teaspoon salt
Preheat oven to 350. Lightly grease and flour an 8×4 inch loaf pan. In a bowl, combine the dates, figs, butter and baking soda. Pour in the boiling water, mix to combine, and let set for 20 minutes.
Add the sugars, pecans and eggs into the date mixure. Mix to combine. Add the flour, whole wheat flour, baking powder and salt. Mix to combine but do not over mix. Gently spoon the batter into the greased pan.
Bake for 55 to 65 minutes, or until a toothpick comes out clean. Cool in the pan for 15 minutes, then remove it from the pan and cool on a rack. While the loaf is cooling make the glaze.
POMEGRANETE GLAZE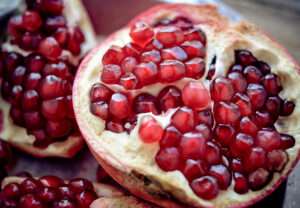 1 cup powdered sugar
2 to 4 teaspoons pomegranate juice
1 tablespoon pomegranate seeds
Place the powdered sugar in a bowl and then add 2 teaspoons of pomegranate juice. Mix to combine. If the glaze is too thick to drizzle over add a little more juice until you get your desired consistency. Drizzle over the top of the cool loaf and sprinkle the seeds over the top for garnish. Makes 10 to 12 slices.
© Eileen Goltz Tu'B 21