Right now so many kosher chefs are focusing on what to serve for Seder. While important, I convinced that the test of the truly creative Passover cook is not so much what you serve for the Seder but it's what you serve on the 7th and 8th day when you feel like the only good matzo is a dead matzo.
I know, I know, every year we promise ourselves that THIS year our meals on the last days are going to be more than what the rampaging hoard didn't finish the first 6 days. This year, we want end of yontif meals will be different, easy to make and yet so delicious that our family will not have to resort to matzo kugel, left over cookies and whatever matzo pieces in the 3 open boxes are left. I want to spend time with my family and friends and not more time in the kitchen cooking stuff whose leftovers I will toss 30 seconds after Havdalah. These are recipes can be served for lunch or dinner during Passover as well as year around. I promise you that, unlike many Passover recipes they won't sit in your stomach for 2 weeks after yontif is over.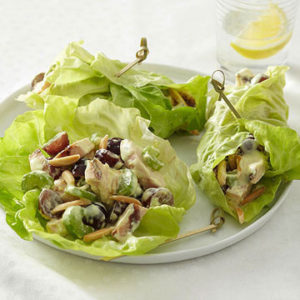 NECTARINE CHICKEN LETTUCE WRAPS
1/2 cup kosher for Passover mayonnaise
2 tablespoons lime juice
1 teaspoon sugar
1/2 teaspoon grated fresh ginger
1/4 teaspoon salt
1/8 teaspoon pepper
2 cups cooked chicken or turkey
2 nectarines (or peaches) cubed
1 cup green grapes
1/4 cup green onions sliced
1/2 cup toasted almonds
8 leaves of bib lettuce
In a large glass bowl combine mayonnaise, lime juice, sugar, ginger, salt and pepper. Add the chicken, nectarines, grapes and green onions. Mix to combine. Cover with plastic wrap and refrigerate for at least 1 hour. Just before serving stir in the almonds. Serve on the leaves of lettuce, secure with a toothpick or skewer.  Serves 6
SPINACH SALAD WITH ROAST BEEF AND HEARTS OF PALM
1/4 cup tablespoons kosher for Passover Balsamic Vinegar
1 tablespoon sugar
1/2 cup olive oil
Salt and pepper
2 pounds fresh baby spinach, washed and stemmed
1 1/2 pound deli roast beef, cut into strips
2 14 ounce can of hearts of palm, drained and sliced
1 tablespoon grated lemon zest
1 pint cherry tomatoes, cut in half
In a bowl whisk together the vinegar, sugar. Gradually whisk in the oil and then season to taste with salt and pepper. (This dressing can be made 2 to 3 days in advance). In a salad bowl, combine the spinach, lemon zest, and hearts of palm pieces, tomatoes and slices of beef. Toss to combine, drizzle about half the dressing over the salad. Toss to coat and serve the salad with the remaining dressing. Serves 6.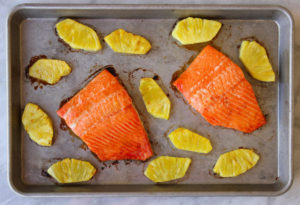 TROPICAL SALMON SALAD
3 lbs. salmon, cooked (grilled or baked), then broken into bite sized pieces
3 tart apples peeled and diced
1 1/2 cup pineapple chunks, fresh cooked with the salmon or canned, drained
1/2 cup chopped almonds
1/2 cup shredded coconut
1/2 cup white raisins
2 teaspoon substitute curry powder (see my substitution list)
3/4 cup Passover mayonnaise
4 cups salad green
2 avocados slices
In a bowl combine the apples, pineapple, almonds, coconut and raisins. Toss to combine. Gently, fold in the salmon chunks. In a separate bowl combine the mayonnaise, kosher for Passover curry and mix to combine. Stir the mayonnaise mixture into the salmon mixture. Divide the greens between 8 plates and divide the salmon mixture between the plates and top with avocado slices. Serves 6 to 8.