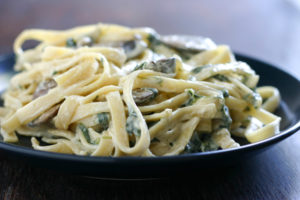 Even though I'm happily married to a nice Jewish boy there is this guy, Alfredo, who is kinda special to me and we have a "date night" every few weeks. Before you ask, the answer is yes; my husband does know about our relationship and is actually ok with it. In fact, he encourages us to get together with him as often as I like. Our getting together is often accompanied by wine and the chance to sit and linger over a meal and quite frankly, anyone who doesn't have an Alfredo in their life is really missing out a really special sauce.
Fettuccine al burro, the original Italian name of Alfredo sauce, was concocted in 1914 by Alfredo di Lelio, the owner of Alfredo's restaurant in Rome. Word of the wonderful sauce spread and hungry travelers came from all over Italy came to taste it. Someone loved it so much they brought the recipe back to the United States where it's become a staple in Italian restaurants. This almost perfect sauce consists of 3 basic ingredients, melted cheese and cream and butter. The rest of the recipes are variations on a theme.
To make Alfredo sauce, you first melt butter in a pan and then add in cheese (usually parmesan) and then you add the cream. Once the cheese is melted, you can add salt, pepper, or whatever other seasonings you want. You can also add or substitute Romano, Asiago, or other cheeses but you should know it does change the flavor of the sauce somewhat. After combining the sauce with your fettuccine noodles (or whatever other noodle you choose) you can add salmon, mock crab, vegetables, or mushrooms on top of the dish if you want to use it as an entrée instead of a side dish. The only downside to the sauce seems to be its rather high calorie count and the astronomical amount of cholesterol. That small matter aside, it's all good.
While most Alfredo sauce recipes are pretty much the same they can, with the addition of a few nontraditional ingredients, become something truly outstanding. In my mind Alfredo sauce is the piece of romance for date night. The only question is does he have a brother?
NOTE: You can substitute half and half for the cream if you're trying to cut down on calories or fat. It will change the flavor and consistency of the sauce slightly but it will work.
MUSHROOM FETTUCCINE ALFREDO (dairy)
12 ounces uncooked fettuccine pasta
1/2 cup butter
8 oz sliced mushrooms
2/3 cup whipping cream
1/2 teaspoon salt
white pepper to taste
ground nutmeg to taste
1 cup grated Parmesan cheese
2 tablespoons chopped fresh parsley (for garnish)
Cook pasta according to the directions on the package directions. Drain it and return it to the pan, set it aside. In a skillet melt the 3 tablespoons of butter  and saute the mushrooms for 3 to 5 minutes, just until soft. Remove from the pan. Melt the remaining butter and add the  cream, whisk together until the butter melts and mixture starts to bubble. Cook stirring constantly (DO NOT BRING IT TO A BOIL) for about 2 more minutes. Stir in salt, pepper and nutmeg. Remove the mixture from the heat. Slowly stir in the cheese and continue stirring until it's completely blended and the sauce is smooth. Return the mixture to a low heat for a just a minute or so but don't let it come to a boil. Add the mushrooms and mix to combine. Pour the sauce over pasta and toss to coat. Warm the pasta and sauce over a low heat and cook, stirring, until the sauce and pasta is coated and the mixture is warm. Place the noodles and sauce in a serving bowl and garnish with the chopped parsley. Serve immediately. Serves 4
3 CHEESE ALFREDO IN A MICROWAVE (dairy)
This is the perfect amount for 2
1/3 cup grated Parmesan cheese
1/3 cup grated Romano cheese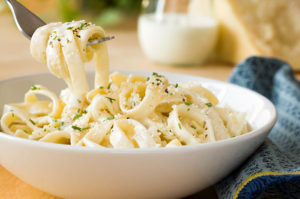 1/2 cup shredded Mozzarella cheese
3 tablespoons butter
1/4 cup milk
1 teaspoon minced garlic
salt
pepper
1/2 teaspoon onion powder
6 to 8 oz. cooked pasta
Combine the cheeses, butter and milk in a microwave safe bowl. Heat on high for 1 minute and then stir. Add the minced garlic and onion powder, stir to combine. Heat on high for another minute and stir again. Heat again on high for 30 seconds to 1 more minute depending on how melted the cheese is and how bubbly the mixture is. Remove the mixture from the microwave. Stir and then season with salt and pepper and then pour the sauce over the cooked pasta. Serves 2
SUPER EXTREME ALFREDO SAUCE (dairy)
Sooooooo rich and sooooooooo good
1 tablespoon olive oil
2 teaspoons minced garlic
1 (8 oz) pkg. cream cheese cubed
3/4 cup grated Parmesan cheese
1/2 cup butter
1/2 cup whipping cream
12 oz cooked pasta
2 handfuls fresh chopped spinach
In a large sauce pan sauté the garlic in the olive oil for about 2 minutes, making sure not to let the garlic get too dark. Add the parmesan, cream cheese, butter, cream and milk to the skillet, cook, whisking constantly until the mixture is smooth. Add the spinach, mix to combine.  If the sauce is too thick, you may want to add a little more cream.
Pour the sauce over the cooked pasta and toss to coat and serve. Serves 4. This recipe can be doubled or tripled.
PEPPERED SALMON ALFREDO (dairy)
1 cup evaporated milk
1/4 cup butter
1/4 cup flour
4 teaspoons vegetable broth or water or milk
1/4 teaspoon minced garlic
1/4 teaspoon salt
1/4 teaspoon pepper
1 lb. smoked peppered salmon chopped ( I use the Honey Smoked Brand)
1/4 cup grated parmesan cheese
In a small saucepan over low heat melt butter. Whisk in the flour. Cook, stirring constantly for 2 minutes. Add the broth and milk and whisk to combine. Add garlic, salt and pepper and whisk to combine. Continue to cook over low heat, stirring constantly until the sauce thickens. Add the salmon and cook for 2 minutes, stirring constantly so the sauce won't burn or stick. Add the cheese, cook for 1 to 2 minutes and serve over the cooked pasta. Serves 4.
LOW FAT GARLIC ALFREDO SAUCE (dairy)
1 can (12 oz) evaporated skim milk
1 cup grated low fat Parmesan cheese
1/2 cup shredded low fat mozzarella cheese
1/4 teaspoon pepper, or to taste
1 teaspoon minced garlic
1/4 teaspoon nutmeg
Skim milk to thin the sauce if necessary
12 oz cooked pasta
In a saucepan heat the milk and garlic to a simmer and add the cheeses and nutmeg and stir and cook until the cheese is until melted and the sauce is thickened. If the sauce it too thick add a little skim milk and whisk to combine. Add the pepper, stir and serve over pasta. Serves 4.