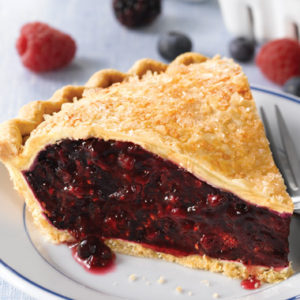 We've all had moments in the kitchen when we've screwed up. Not big screw ups like putting the oven on broil instead of bake or even forgetting to turn it on but rather those moments where the cake didn't rise because you forgot an ingredient or rose too much added one twice. Maybe it when you got halfway through the recipe and discovered what you were sure you had in the pantry, you didn't. Those are the time when creativity can give way to discovery or disaster depending on what you do.
Some of the inventions that happened by accident are the most appreciated ones.
Good recipes and foods discovered by accident are typically infrequent events (except in my house where I never met a recipe I didn't try and change). Spectacularly delicious or disasterous anomalies most often happen when you're in a hurry and do something stupid, try and substitute one or two ingredients for ones you don't have. Examples of these kinds of "oops what the heck did I do" can be found throughout all the grocery aisles:"
Let's look at refrigerator rolls: In the early 1930s a baker of some renown, Lively Willoughby, was in a hurry one day and wrapped her unbaked biscuits in foil then stuffed them into cardboard tubes and then put them in the refrigerator to be made at a later time. When she finally got around to taking the dough out to bake the tube exploded.  Referencing notes from the Encyclopedia of Consumer Brands it's said that her son had to scrape the dough off the ceiling with a knife.
We all know the story of chocolate chip cookies. Toll House Inn's Ruth Wakefield ran out of baking chocolate and she chopped up a bar of semi-sweet chocolate and added the pieces to her dough. The cookie put her Inn on the culinary map and got the attention of Nestle.
Wheaties, the breakfast of champions was also a delicious boo boo. A worker at a Minnesota health clinic spilled some of the hot bran gruel onto a hot stove top. It cooked up into tasty flakey clumps. George Cormack a local miller heard about it and tinkered with the process. Fast forward to now and his company is now called General Mills.
The first sweetness without calories concoction kudos belong to chemist Constantine Fahlberg who, while working at John Hopkins in the late 1800's,  spilled a chemical on his hands and forgot to wash them before sitting down to eat his lunch. He noticed the chemicals very sweet taste where he had touched the bread and then eaten it. After a little experimentation and a lot of tasting saccharin was born.
Cooking mistakes like accidentally using Worcestershire sauce instead of vanilla (come on, the bottles are the same size and color, it happens) or forgetting to take the paper insert out of a premade pie crust before baking the filling (yes, it happened once) usually don't make it to the table. However, the following recipes are all happy accidents that should be repeated.
DEEP DISH RHU-RAS-BLUE PIE (pareve)
For when you don't have enough of any one fruit for a pie
2 ready-made pie crusts, thawed (or your own recipe for 2 crusts)
3 tablespoons flour
1 cup white sugar
1 egg, beaten
1 cup raspberries
1 cup blueberries
3 cups chopped fresh or frozen rhubarb
Preheat the oven to 425. Press one of the pie crusts into a 9-inch deep dish pie pan.
In a bowl combine the flour and sugar and mix to combine. Add the beaten egg and raspberry and blueberries. Mix to combine and then add the rhubarb and mix thoroughly. Spoon the mixture the pie crust. Top the fruit with the remaining crust (you can cut it into strips and make a lattice top if you prefer that look)
, and crimp around the edges to seal. Using a sharp knife or a fork poke vent holes in the top crust (at least 5 or 6). Bake for 10 minutes then reduce the heat to 350 and bake for 30 to 35 more minutes. Remove from the oven and cool for at least 30 minutes before serving. Serves 8
PUMPKIN OR SWEET POTATO CORNBREAD MUFFINS (pareve)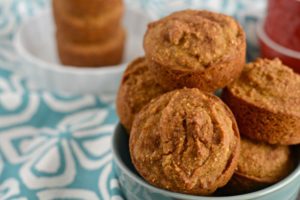 Great for leftover baked sweet potatoes or canned pumpkin
1 cup flour
1 tablespoon baking powder
1 teaspoon salt
1/2 teaspoon ground cinnamon
1/4 teaspoon ground nutmeg
1 cup cornmeal
2 large eggs
1 cup canned pumpkin or left oversweet potato pureed
1/3 cup brown sugar
1/4 cup honey
1/4 cup  oil
Preheat oven to 400. Fill 12 muffin tins with paper muffin cups. In a large bowl sift together the flour, baking powder, salt, nutmeg and cinnamon. Stir in the cornmeal and set it aside.  In another bowl combine the eggs, pumpkin, brown sugar, oil and honey. Whisk to combine.  Fold the pumpkin mixture into the flour mixture and mix just enough to combine but make sure you don't over mix.  Spoon the batter into the paper muffin cups and bake 20 to 22 minutes, the top is golden and a toothpick inserted into the centre of each muffin comes out crumb free. Let the muffins cool in the pan for 10 minutes then remove them to cool on a rack. Makes 12
LAST MINUTE SPINACH PIZZA (dairy)
Hungry kids? No time to make yeast dough? This takes seconds to throw together and is so much healthier and delicious than the frozen or delivered kind.
4 tortillas (9 inch tortillas)
1/2 cup shredded mozzarella cheese, divided
1 cup readymade pizza sauce
5 ounces fresh spinach, shredded
1/2 cup red, yellow or green bell pepper, diced
2 carrots, grated, divided
1 tomato, diced
1/2 cup grated cheddar cheese
Preheat oven to 375. Line a cookie sheet with aluminum foil. Place two tortillas on the foil and divide 1/4 cup of the mozzarella between the two. Lay a second tortilla on top of the mozzarella. Spread half of the pizza sauce on top of both of the tortillas Divide the shredded spinach on top of the sauce. Divide the pepper and carrot between the two.
Combine the remaining mozzarella and cheddar cheese together and then sprinkle it on top of the vegetables. Bake for 15 to 18 minutes. The cheese should be melted and bubbling and crust edges are brown. Makes 2. This recipe can be doubled or tripled.