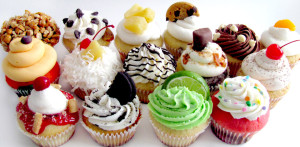 Cupcakes are the perfect dessert and a great way to use up some of the chometz we're all trying to eliminate. They're less messy than a slice of cake. They're much attractive than a slice of pie, and they can pack a lot of flavor into a few delectable bites! Cupcakes have been around since at least the 18th century, although they were called "queen" cakes way back then. Often, they were baked in decorative molds, but some simple recipes called for baking them in earthenware cups. Hence, the probable origin of the name. By the 19th century, cupcake recipes were included in all kinds of cookbooks. Some food historians say that, much like the pound cake recipe included a pound of this and a pound of that, cup cake recipes used a similar, a cup of this and a cup of that strategy.
Cupcakes used to be classified as "kid food" and kids parties because they are so easy to make, not so messy to eat and can be served to a ton of kids all at once. The traditional cupcake is either vanilla or chocolate batter with a butter cream frosting. However, there are tons of variations that could include almost any ingredient you can think of.  (Well, almost, truth to be told, I've never seen a recipe for a salami cupcake). Limited by only your imagination and the myriad mix-ins, toppings, and filling recipes available this year's holiday table is going to be scrumptious
BASIC CUPCAKE RECIPE (dairy or pareve)
1 cup milk or substitute
4 cups flour, sifted
5 teaspoons baking powder
2/3 cup butter or margarine
2 cups sugar
4 eggs, beaten
Preheat oven to 350. Grease and flour 2 cup cake pans (12 each). In the bowl of an electric mixer combine the butter and sugar. Cream them together. Add the beaten eggs and combine. Add the milk and mix to combine. Add flour sifted and baking powder and stir thoroughly. Fill the cups of the cup cake pans 1/2 to 3/4 and bake for 20 to 25 minutes. Once the cupcakes are completely cool, they can be covered with any kind of frosting or topping. Makes 2 dozen.
BROWNIE CUPCAKES (dairy or pareve)
4 squares unsweetened chocolate
2 sticks (1 cup) margarine or butter
1 1/4 cups sugar
1 cup flour
4 eggs
1 teaspoon vanilla
1/4 teaspoon butter flavoring
1 cup chopped pecans
Preheat oven to 325. Place muffin papers in the cups of a dozen muffin cups. Place the chocolate and butter in a glass bowl. Microwave it until it melts. Start with 1 minute, stir and then add 20 seconds and stir. Continue with this until melted and combines. Add the sugar, flour, eggs (1 at a time, beating well after each addition), vanilla, and butter flavoring. Beat all together well. Add the pecans and mix well. Bake for 20 minutes if using regular muffin tins or for 10 minutes if using mini muffin tin. Do not over bake! Makes 12 regular muffins or 2 dozen mini cupcakes.
DRIED FRUIT CUPCAKES (dairy or pareve)
1-1/2 cups finely chopped mixed candied fruits
2/3 cup golden raisins
1/4 cup pitted dates, finely chopped
1 cup flour
3/4 teaspoon baking powder
1/2 teaspoon salt
1/2 shortening or unsalted butter
1/2 cup sugar
1/2 teaspoon vanilla
3 eggs
1/3 cup unsweetened pineapple juice
Rum Glaze
1/4 cup sugar
1/4 cup unsweetened pineapple juice
1 tablespoon rum
1 teaspoon lemon juice
Preheat oven to 350. Grease a cupcake pan (for 12). In a bowl, combine candied fruits, raisins, and dates. In another bowl thoroughly stir flour, baking powder, and salt together. In a large mixer bowl, thoroughly cream shortening or butter with sugar and vanilla. Add eggs, one at a time, beating well after each. Add dry ingredients to creamed mixture alternately with pineapple juice, beating well after each addition. Stir in fruit mixture. Fill well-greased muffin cups almost to top. Bake for 25 to 30 minutes, placing pan of water on bottom rack of oven during baking. Make the rum glaze while the cupcakes are cooking. Remove cupcakes from pans. When cakes are cooked, prick holes in top of each with a long-tined fork. Brush with half of the hot Rum Glaze When glaze is set, bring remaining glaze to a boil and brush over cakes. Decorate with candied fruits and nuts.
Rum Glaze: Combine all the ingredients in a small saucepan and bring the mixture to a boil. Cool slightly and then use to brush the top of the cupcakes
LEMON MERINGUE PIE CUPCAKES (dairy)
1 cup cake flour
1 cup flour
2 teaspoon baking powder
1/2 teaspoon salt
1/4 cup butter, very soft
1 cup sugar
2 tbsp lemon zest (from 2 large lemons)
1 large egg
1 teaspoon vanilla
1 cup milk, room temperature
1cup lemon curd (home made or store bought)
Preheat oven to 375. Line 18 muffin cups with paper liners. Sift together the cake flour, flour, baking powder and salt in a medium bowl and set it aside. In a large bowl, cream butter, sugar and lemon zest until fluffy, about 3 minutes. Beat in egg thoroughly, followed by vanilla. Alternate milk and flour in three additions, ending with flour. Evenly distribute the batter into the cupcake papers. Bake for 18-20 minutes, until a tester comes out clean and the cake springs back when lightly pressed. Remove to a wire rack to cool. Makes 18 cupcakes.
Once the cupcakes are cool, fill a metal-tipped pastry bag with lemon curd (recipe follows, or you may use store-bought) and pipe into cupcakes. Poke the tip of the pasty bag 1/2-1 inch into the top of each cupcake and squeeze about 2 teaspoon lemon curd into it. You might not use all the curd.
Meringue
3 egg whites
1/2 cup sugar
1/4 teaspoon cream of tartar
Set a glass or metal bowl over a sauce pan with an inch or two of boiling water in it (i.e. use a double boiler) and beat egg whites in it until foamy. Add in cream of tartar and beat until fluffy but not yet at soft peaks. Stream in sugar until meringue reaches fairly stiff peaks. Spread on cupcakes with a small knife or offset spatula. Brown with a blowtorch or place on a baking sheet under the broiler until lightly browned, about 3 minutes.
Lighter Lemon Curd
(adapted from Chocolate and the Art of Low Fat Desserts)
1/3 cup fresh lemon juice
1-2 teaspoon lemon zest
5 tbsp sugar
1 egg, room temperature
1/2 teaspoon vanilla extract
In a small sauce pan, over medium heat, dissolve sugar into lemon juice. Add zest. Lightly beat egg in a small/medium bowl. Whisking constantly, slowly pour lemon/sugar syrup into the egg. Beat for 2 minutes (only 1 if you're using a mixer), then transfer back into the saucepan. Heat over low heat, stirring constantly, until it just starts to bubble at the edges. Remove from heat and stir in vanilla. Transfer to a small container and store in the fridge. Makes 2/3 cup.
From www.southerncooking.com  submitted by Ariela Gontza
ICE CREAM CONE CUPCAKES (dairy or pareve)
1 package dry cake mix (any flavor)
24 cake cup ice cream cones (flat bottom)
water, oil and eggs per cake mix directions on box
Preheat oven to 350. Mix cake mix per directions on box. If using a white cake mix, divide mix into four separate mixing bowls and use food coloring to make different ice cream "flavors". Place ice cream cones in muffin pan and fill about 1/2 to 3/4 full. Bake 15 to 20 minutes or until done. Cool on a wire rack. Let cool completely if frosting. Makes 18 to 24 cupcakes
FAT FREE AND EGG (YOLK) FREE CHOCOLATE CUPCAKES (dairy)
4 egg whites
1 pinch salt
1 small box chocolate pudding mix, not instant
1/2 cup fat free dry milk
1 tablespoon unsweetened cocoa powder
1/2 cup sugar
1 cup self-rising flour
1 1/2 teaspoons vanilla
4 ounces applesauce
1/4 teaspoon baking soda
Preheat oven to 350. Line 12 muffin cups with papers. In a mixing bowl, beat the egg whites with salt until stiff peaks form. In another bowl combine the pudding mix, dry milk, cocoa, sugar and flour. In another container, combine the vanilla, applesauce, and baking soda. With electric mixer, beat dry ingredients, 1 cup at a time, alternating with the applesauce mixture into the egg whites. Beat for 2 minutes after last addition. Divide batter equally between 12 paper-lined cupcake cups. Bake for about 18 to 20 minutes, or until a wooden pick or cake tester comes out clean when inserted in center. Cool in pan for 10 minutes; remove and cool completely. Frost or dust with powdered sugar. Makes 12